Lavish and Luxurious Outdoor Living Spaces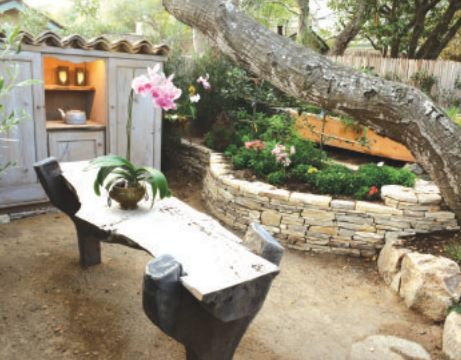 Outdoor living extends the enjoyment of your home in our temperate Central Coast climate. There are now many exciting ways to relax and unwind in a well-designed oasis of outdoor living space. Just dream it and an expert team can make it happen!

In fact, nearly any activity you enjoy inside your home can be brought outdoors. Luxury furnishings and high- end appliances are now often found in the backyard. Technology has come a long way enabling you to enjoy big screen televisions. full outdoor kitchens, living rooms. pools. Jacuzzi spas and gorgeous lit stone fountains, elaborate fireplaces and fire pits, concrete bar tops for food preparation and refrigerators, pizza ovens, landscape lighting and much more.

The Latest luxury backyards can feature such as movie theaters, dishwashers, radiant floor heaters and even bathtubs. Why not enjoy commercial-grade heating and automatic mosquito control? It is all feasible for your outdoor sanctuary!

Your upgraded outdoor living space should also use great design by an experienced landscaper. West Coast landscaping
in Monterey is one such expert who specializes in residential landscape architecture and landscape construction.
"We are dedicated to providing custom design services and quality installations to enhance our unique area and satisfy the most sophisticated clients on the peninsula and beyond. Our landscape and building design staff bring a collage of Architectural Art to your project. Our construction staff includes talented masons, carpenters, irrigation specialist and gardeners says Abel Silva, CEO, Founding Principal.

Consider installing drought resistant attractive plants and trees that will enhance and beautify your outdoor living experience. A variety of high-quality, frost-proof terra cotta pots, interesting colored pavers. hand-carved wooden gates with antique hardware, and custom—made fountains can add so much to a beautifitl outdoor setting. Outdoor lighting now features all types of lighting including chandeliers, ceiling fans, table lamps and gas sconces ideal in covered outdoor rooms. Glass countertops can incorporate fiber optics that look beautiful both day and night.

Outdoor fireplaces and custom wood-carved trellis structures trasnform an outdoor space into an outdoor room, making the are usable year-round. The fireplace provides warmth in cool weather and the trellis offers shade in the hotter part of the summer and fall. Two-sided fireplaces can also create a natural separation for living and dining areas.

Pergolas are a wonderful way to definespace and give an outdoor room a more intimate feeling. Add some unique art for outstanding accents including statues and wall hangings.

Luxurious fabrics and pillows add comfort and elegance to outdoor seating, as well as including elegant carpets and draperies to add softness and privacy.

Outdoor furniture can also add a high quality element, such as teak furniture with colorful comfortable cushions. Why not add some beautiful travertine floors?

Outdoor kitchens have come a long way and feature warming drawers, side burners, refigerators beer taps. and bar centers perfect for entertaining. Custom cabinetry and kitchen islands are also found in todays outdtoor luxury kitchens. Add multiple surround sound speakers set strategically throughout your outdoor living area and a drop down plasma TV screen to enhance your exterior space.

So take a look at your exterior areas and plan something great. Work with experts and design and create a fabulous gathering place for family
and friends create simply beautiful outdoor living areas.